In your car.
At work.
On the go.
At home.
Wherever you are.
This is how it works:
group
Short dialogues
Each lesson contains useful everyday phrases related to a specific topic. You'll learn the language in context, not just isolated words. All material is translated and spoken by native speakers.
flash_on
High-frequency words
You will learn the most frequently used words. This will help you get fluent in the shortest amount of time. You'll start to see patterns in the sentences you are learning, and how to apply them to different situations.
headset
Audio lessons
Short audio lessons (around 10 minutes) will help you get speaking in no time. Combined with the review lessons, you will see a boost to your fluency and comprehension.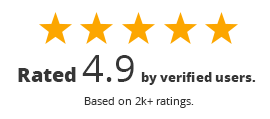 WHAT OUR USERS ARE SAYING:
It is an excellent method to learn German. It is practical, simple and very easy to study. Listening and speaking is undoubtedly the best way to learn a language, without the need to study complicated and difficult grammar. I highly recommend this audiobook and LINGUABOOST in general for learning a language.
Worth the money!! I absolutely loved this method of teaching. After trying many audio books, nothing has worked for me, except for LinguaBoost.
Definitely a Booster. A great tool to use if you have had lessons and need a refresh.
❮
❯
New releases:
Swahili 3, Tagalog Vol. 1-3